Venson Shih, Finance and Operations Director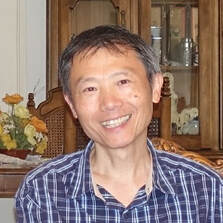 Early in Venson's career, he worked for a small entrepreneurial high tech firm. Although he found it exciting and rewarding (and it is what brought him from Southern California to New England), he wanted to feel like he was making more of a difference. So he spent the next couple of decades as the IT Director for non-profit organizations including the American Heart Association, the Appalachian Mountain Club and Stearns Farm CSA. He also worked as an independent technology consultant and operations manager for non-profits, businesses and individuals. Feeling that climate change was one of the biggest challenge of our time, he wanted to do his part to address climate change. So he joined Better Future Project overseeing their HR, finances, operations and IT needs. Now Venson is excited to be part of the All In Energy team!

Venson spends as much time as possible outdoors, walking, hiking, biking, kayaking or playing in his garden. He is a strong advocate of sustainability, for protecting nature and the environment. He is always looking for ways to live a low impact life including making his house more energy efficient and using clean energy.​