Mamadou Balde, Community Programs and Partnership Manager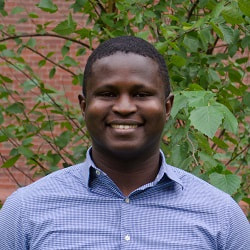 Mamadou joined All In Energy in January 2019. Since then he has served in many roles - from working at All In Energy's outreach events to following up with people met at these events to schedule the no-cost home energy assessments. Mamadou has been and continues to be a dependable point of contact for the people All In Energy serves when it comes to navigating the Mass Save incentives and rebates. He has also served as reliable support for post-assessment remedial and weatherization work.
Mamadou is passionate about clean energy, and prior to working at All In Energy, he held several internships in the clean energy field to expand his knowledge and experience. He researched Community Choice Aggregators and their implementation plans in Massachusetts, New York, and Illinois as a Fellow at Solstice, performed research of renewable energy developers as a Renewables Advisory Intern at Energy Edison, LLC, and helped with tracking company expenses as an Operations Intern at Synapse Energy Economics.
Mamadou is from Guinea and has been living in the U.S. for four years now. He has an associate degree in Business from Bunker Hill Community College and is working on his transfer application to a four-year college.
Mamadou is a huge soccer fan and enjoys live performances such as concerts and sporting events.