Ana Lopez, Bilingual Senior Communications & Development Manager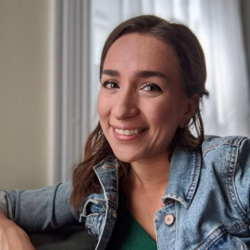 Ana graduated BHCC with a major in design and visual communications. Her background includes a bachelor's degree in Fashion Design where she discovered her passion for eco-design and how to approach sustainable and environmentally friendly models for the fashion industry.
She was born and raised in Colombia and has spent the past five years in the U.S. perfecting a second language as well as learning new skills and pursuing a second major.
She feels passionate about design and how visual communications can reach out to people and deliver messages in a more personal manner. She believes that now is the time to change the way the world interacts with the environment and therefore it should move towards cleaner energies, greener living practices, and economic models that guarantee the preservation of our natural resources and the environment.
Ana joined the All In Energy team as a Bilingual Communication and Marketing Intern, transitioned to the Communications and Development Coordinator and is now the
Bilingual Senior Communications & Development Manager
. She is looking forward to building her professional skills and learning more about the clean energy industry.