Julie Harris, Director of Outreach and Events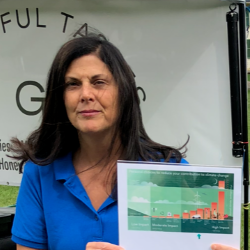 For Julie, the work she does has to positively affect more than just the bottom line, which is why she's spent the last 15 years working for mission-minded companies and nonprofit organizations. The majority of this work has focused on environmental issues, racial equality and those experiencing economic hardship. As an Events and Development Coordinator for a nonprofit shelter for the homeless, Julie planned and executed large fundraising events and cultivated donor relationships.

As an Educator and Green Mission Captain for Whole Foods Market, she educated and trained team members on company policies and procedures, environmental issues, organic farming, food security and food justice. Julie chose to work at Whole Foods Market because of its highly diverse workforce and meaningful missions, including the Whole Planet Foundation, which helps lift women out of poverty through microloans for small businesses. While at Next Step Living, Julie was consistently a top performer on the Outreach Team. As a Team Lead there, she excelled at customer service, team member development and leveraging partnerships and community programs to achieve goals.

​Julie also has experience working in rooftop solar and community solar and is a certified Holistic Health Coach. She's thrilled to be at All In Energy and is looking forward to growing the Outreach Team and expanding partnerships and community programs. Outside of work, Julie enjoys reading, writing, music, film, relaxing by the ocean, gardening and cooking. She loves enjoying great food with friends and family and chilling out with her kitties, Mimi and Moonbeam.