Jared Johnson, Associate Director of Neighborhood Outreach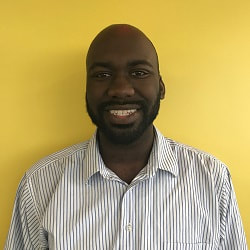 Jared Johnson has extensive experience working in the clean energy sector and leading campaign teams for social cause organizations. He was most recently an Assistant Director at the Fund for Public Interest in Washington, D.C., where he assisted in running the FUND's D.C. canvassing office, directed staff development, coordinated non-canvassing campaign tactics and personally had conversations about environmental and public health issues with over 2,500 people.
Jared started his career in advocacy by working for the Office of Congressman Gerry Connolly in Woodbridge, VA. He later became an Organizer for Wolf-PAC Virginia, recruiting volunteers and lobbying elected officials to support campaign finance reform. Prior to the 2018 midterms, Jared worked as a Field Manager for Work for Progress in Greeley, CO where he lead a Get Out the Vote canvassing team, which helped its candidate win her midterm election.
Jared also has worked to accelerate the transition to clean energy. During college, he served as an energy auditor with the Pennsylvania Technical Assistance Program and performed research with the Energy Efficient Housing Research Group. As a fellow for Environment America in Washington, D.C., he focused on stopping offshore drilling; and as an Operations Associate at Arcadia Power, he helped clients support wind farms across the country.
​
Jared has a B.S. in Energy Engineering from Pennsylvania State University. In his spare time, he creates and writes for the online journal, Climate-Politique.com, reporting on issues relating to climate policy, research, and advocacy.