Gabe Shapiro,
Co-Founder & Co-Executive Director, Partnerships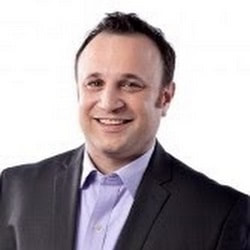 Gabe has spent the last decade working with communities and institutions to connect their constituents to clean energy technologies and services. At Next Step Living, he created a partnership-based customer acquisition model. Working with dozens of municipalities, environmental non-profits and other institutional partners across New England, Gabe's team helped over 150,000 families save energy and money, created hundreds of jobs and saved hundreds of thousands of tons of greenhouse gases from being emitted.
While at Next Step Living Gabe managed the company's leading role in providing energy assessments and weatherization work to moderate-income families in Boston's underserved communities as part of the
Recovery-Act-funded Renew Boston program.
After his time at Next Step Living, Gabe spent a year working with municipal electric companies to increase adoption of electric vehicles in their towns. These "Drive Electric" programs helped the economics of the partner utilities by adding additional load from electric vehicles and the ability to shift that load to off-peak hours.
Gabe earned an M.B.A from the MIT Sloan School of Management and holds a B.A. in Business Economics from Brown University. Gabe spends his time outside of work perfecting his urban garden with his wife and two daughters and walking his dog, Tessie, in the Arnold Arboretum.