Colleen Mirabello, Senior Manager of Data and Impact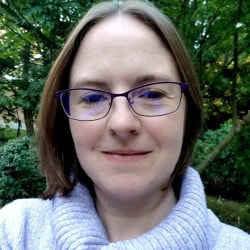 Colleen comes to All In Energy with a degree in Computer Science and a background in tech, having 20 years of experience as a web developer, Director of Engineering, and Chief Technology Officer at a small Boston-based online software company. After completing Terra.do's Learning for Action program, she shifted her focus to help in the fight against climate change. She is excited to apply her data management and visualization skills to support All In Energy's mission to bring more people into the clean energy economy.
Colleen grew up in Upstate New York but has lived in Massachusetts for more than half her life. She is married to a video game developer and together they have a young daughter and two cats. She volunteers with her town's sustainability group as well as with a local non-profit aimed at supporting working moms. She also loves to crochet.