Angelica Rodriguez, Neighborhood Outreach Representative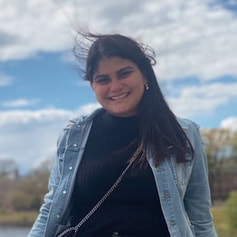 Angelica was born and raised in Honduras. She is a junior from Boston University doing a double major of Sociology and Economics and a minor in International Relations.
She will be working as a neighborhood outreach representative at All In Energy this summer having real in person interactions, while staying COVID-19 safe and bringing awareness about the benefits of the program to others.
She's excited about growing her communication skills and meeting new people. She is grateful for this internship because it gives an opportunity to grow her passion of creating a positive impact for the environment (the main reason she is vegetarian). She loves what All In Energy's mission and values are and is excited to be part of such an amazing tight knit family that helps the communities who are unaware of the energy programs offered in the state. She hopes to learn and spread awareness regarding energy programs from which people can take full advantage of.
A fun fact about Angelica is that she loves to spend her time baking and trying plant-based recipes since she is passionate about the environment. She loves to help others and is interested in pursuing a career in the legal field, where she can advocate for environmental and human rights. She is weirdly obsessed with peanut M&Ms (she has a complete collection of random M&M merch).
Other work experiences she has had is working as an intern in the Supreme Court of Justice in Honduras.