Meet the All In Energy Staff Team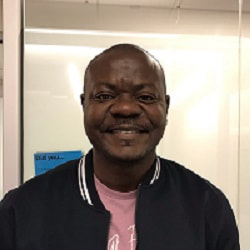 Jean Alofan, Rental Property Energy Adviser
Since 2014, Jean N. Alofan has worked as Lead-Safe Abatement Supervisor and has overseen various home improvement projects.
Jean moved to the United States from West Africa, where he worked with a world-recognized nonprofit, Floating Hospital, as a team leader and a translator to bring hope and healing to the underprivileged. Prior to this role, Jean served as a logistics manager for an international shipping company.
Jean is fluent in French, English and Portuguese and has a diploma in computer maintenance and repair. He has just completed his Bridge to College program and won a scholarship to continue his education in computer science.
Jean joined the All In Energy team in August 2019 as a Rental Property Energy Adviser. He is excited to join the team because he loves serving communities and cares deeply about the environment and energy efficiency.
Rouwenna Altemose, Co-Founder
Before founding All In Energy, Rouwenna served as National Program Director at the Alliance for Climate Education (ACE). She directed the organization's youth education, leadership and advocacy programs in five cities nationwide and oversaw organization-wide initiatives, including leading ACE's diversity, equity and inclusion strategy with two colleagues. Prior to this role, Rouwenna was a founding member of ACE's New England region, which educated over 250,000 students at over 400 schools. She built ACE staff teams in New England, New York City and Ohio, directed ACE's national outreach strategy, and personally presented to over 67,000 students and trained nearly 500 student leaders.

Before ACE, Rouwenna was on the outreach team at the Union of Concerned Scientists, supporting their network of scientists and educating the public about climate change impacts and solutions.

Rouwenna is a Kentucky native who has lived in Massachusetts since 2004. She has a B.A. in Astronomy and Physics from Smith College and holds an M.B.A. in Public and Nonprofit Management at Boston University. She is an Environmental Leadership Program Senior Fellow, and holds a certificate in Nonprofit Management and Leadership from the Institute for Nonprofit Management and Leadership at Boston University.

Outside of work, Rouwenna loves to go on long bike rides, hike, travel, dance, and eat good food with friends.
Jared Johnson, Boston Clean Energy Organizer
​
Jared Johnson has extensive experience working in the clean energy sector and leading campaign teams for social cause organizations. He was most recently an Assistant Director at the Fund for Public Interest in Washington, D.C., where he assisted in running the FUND's D.C. canvassing office, directed staff development, coordinated non-canvassing campaign tactics and personally had conversations about environmental and public health issues with over 2,500 people.
Jared started his career in advocacy by working for the Office of Congressman Gerry Connolly in Woodbridge, VA. He later became an Organizer for Wolf-PAC Virginia, recruiting volunteers and lobbying elected officials to support campaign finance reform. Prior to the 2018 midterms, Jared worked as a Field Manager for Work for Progress in Greeley, CO where he lead a Get Out the Vote canvassing team, which helped its candidate win her midterm election.
Jared also has worked to accelerate the transition to clean energy. During college, he served as an energy auditor with the Pennsylvania Technical Assistance Program and performed research with the Energy Efficient Housing Research Group. As a fellow for Environment America in Washington, D.C., he focused on stopping offshore drilling; and as an Operations Associate at Arcadia Power, he helped clients support wind farms across the country..
Jared has a B.S. in Energy Engineering from Pennsylvania State University. In his spare time, he creates and writes for the online journal, Climate-Politique.com, reporting on issues relating to climate policy, research, and advocacy.
Gabe Shapiro, Co-Founder
Gabe has spent the last decade working with communities and institutions to connect their constituents to clean energy technologies and services. At Next Step Living, he created a partnership-based customer acquisition model. Working with dozens of municipalities, environmental non-profits and other institutional partners across New England, Gabe's team helped over 150,000 families save energy and money, created hundreds of jobs and saved hundreds of thousands of tons of greenhouse gases from being emitted.
While at Next Step Living Gabe managed the company's leading role in providing energy assessments and weatherization work to
moderate-income families in Boston's underserved communities as part of the
Recovery-Act-funded Renew Boston program.
After his time at Next Step Living, Gabe spent a year working with municipal electric companies to increase adoption of electric vehicles in their towns. These "Drive Electric" programs helped the economics of the partner utilities by adding additional load from electric vehicles and the ability to shift that load to off-peak hours.
Gabe earned an M.B.A from the MIT Sloan School of Management and holds a B.A. in Business Economics from Brown University. Gabe spends his time outside of work perfecting his urban garden with his wife and two daughters and walking his dog, Tessie, in the Arnold Arboretum.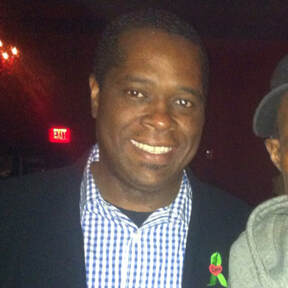 Corey Thompson, Cambridge Clean Energy Organizer
Corey recently relocated to Dorchester from Takoma Park MD, in the Washington D.C. Metropolitan area where he received his B.A. in Architecture and Urban Planning from Howard University. He also worked as Director of Operations for Mobius LLC, a sustainable design build firm. Coreys transition back to MA and into the Clean Energy Organizer position was a welcomed change that built on his love for the environment.

​Corey is working with community leaders in the City of Cambridge also to ensure that local renters and owners are getting the full benefits of the many instant saving measures in the Mass Save program that reaches underserved residents, both renters and homeowners.