Pranit Chand, Assistant Data Coordinator Intern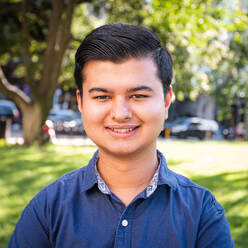 Pranit is an international student from Nepal, the land of Mount Everest and Lord Buddha. After being in the US for about two years now, Pranit hopes to work in the Data Science sector and also has entrepreneurial spirits. Pranit was an intern with All In Energy this past summer, and enjoyed it so much that he decided to come back.

He previously attended Marlboro College and presently goes to Emerson College in Boston, Massachusetts. He is currently majoring in Data Science and Economics with a minor in Entrepreneurial Studies. Pranit is focused on developing All In Energy's database system and learning to better structure the data flow, including the use of various programs in order to accomplish that. Pranit is also focused on technological development and data analysis. He enjoys working for the community and has been involved with various organizations related to it in the past.
​
Considering himself a staunch advocate for student rights, Pranit is the Vice President of Student Government at Emerson College. He also enjoys traveling, biking, and hiking in the woods. In his free time, he enjoys making video games as a hobby. A big follower of Steve Jobs, his goal in life is to literally "put a dent in the universe."